This post looks at alternatives for getting an internet connection that meets the necessary speeds for a reliable live stream without the use of mobile hotspots. It's part of our series on upload speed for live streaming.
Here at BoxCast we believe that every event that is watched live should be streamed live. Unfortunately, not every event takes place in your usual venue where you there is a reliable internet connection. Whether you are streaming an away football game or a charity concert at a remote venue, we have often suggested the use of a simple mobile hotspot from your phone because of the low cost and simplicity.

Sometimes that one little phone just doesn't get it done and you end up with a pixelated, low quality stream. Here are a few alternatives for getting an internet connection that meets the necessary speeds for a reliable broadcast.
Cellular bonding ($$)

All cell services start to break down when large audiences gather. The number of bars is indication of cell tower strength (which you need), but depending on the "backhaul speed" from the cell tower back to the carrier company's offices, that could get saturated too. This means that full bars doesn't always mean that there is enough reliable bandwidth.
Cellular bonding gives the ability to combine multiple cellular and wireless networks such as 3G, 4G, and LTE over SIM cards from different carriers to achieve a reliable, diversified uplink that is capable of streaming high definition video. Broadcasters and live streaming professionals can cost effectively stream without the worry of oversaturation on a single given network.
Based on our testing, the BoxCaster works well when paired with a Peplink MAX HD2 or HD4 Multi-Cellular Router for a cellular bonded solution. The 2 SIM card solution will work fine for some applications, but we found that the most reliable route is a 4 SIM card solution with diversified carriers, such as 2 AT&T and 2 Version SIM cards.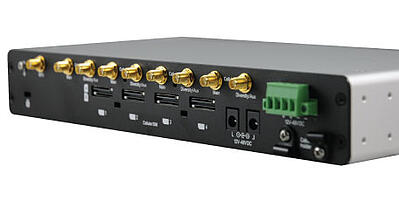 Cell bonding can be affordable if you are using a limited number of SIM cards. Upfront costs range from $900 - $2,500, while monthly bonding service typically costs around $100.
Unfortunately, the Peplink products are not as easy to setup as our BoxCaster and may require some assistance from an IT professional.
Pros: Portable, affordable

Cons: Requires IT configuration, still has the potential of oversaturation for very large audiences or underprovisioned cellular areas, can't be in a remote area.
portable satellite dish ($)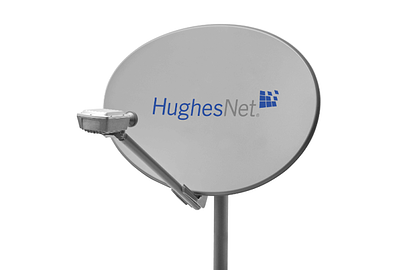 Imagine a DirectTV dish on a tripod that can provide reliable internet for you to stream on. This is an elegant option since you don't have to rely on multiple cellular providers, rather a satellite feeding your stream.
Take a look at Hu(gh)esNet for the services they offer and areas they service.
Prices are based off of the amount of data that is used on the network. They can range anywhere from $50 / month - $100 / month depending on how much data you need with a 24 month contract.
The only downside is that this solution only works when you are outdoors so streaming events like away basketball game or play at the new theater will be more difficult.In order to be reliable, clear skies are a must. You also need to have a general understanding of satellite positioning to see best results.

Pros: Portable, affordable

Cons: Only works outside, locked into 24 month contracts, 3 MB (1080p) upload limit


full satellite truck ($$$)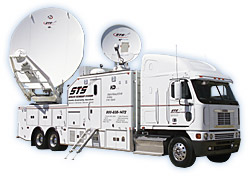 This is the most robust and expensive of the offerings. This is a full service vehicle dedicated to providing you the reliable, high speed, satellite internet. These trucks are more powerful in many ways than your typical consumer satellite dish and can provide a higher quality feed. You would really only need such a service if you are executing very large audiences such as sporting events, or any event that would require a perfect stream with 0 downtime.
Prices for this type of service are in the range of $2,000 per day plus $400 per hour for upload.
Pros: Reliable high speed internet, does not require clear skies.
Cons: Expensive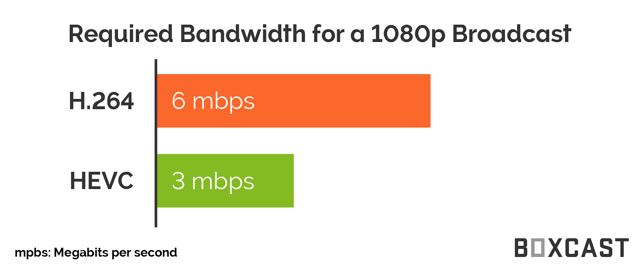 higher compression with hEVC (h.265)
One alternative to limited and unreliable internet connection is HEVC compression. The next evolution in live video streaming, HEVC enables you to stream with half of the required bandwidth and improved quality. HEVC is still in the early stages of its adoption across the market, but one of the early HEVC encoders is the BoxCaster Pro. When paired with BoxCast Flow streaming protocol, the BoxCaster Pro works in conjunction with one of the previously mentioned transmission technologies to get you the highest possible quality for your live stream.


Final Thoughts + Further Reading
It is important to know more about your audience size, bandwidth requirements, and physical broadcasting location in order to make the right decision on what solution to go with. In the end, it will usually come down to finding the balance between your budget and the acceptable quality and reliability level for your live streaming application.
When outside at a big football game, the cell service typically gets drowned out but the satellite dish can reach the sky. When inside, there can't be an enormous audience, so you can put more trust into bonded cell connectivity.
Here's some further reading you might find interesting:
What Upload Speed Do I Need to Live Stream?
Upload Speeds For 4K Live Streaming