"Many Samaritans from that town believed in him because of the woman's testimony, 'He told me all that I ever did.' So when the Samaritans came to him, they asked him to stay with them, and he stayed there two days. And many more believed because of his word. They said to the woman, 'It is no longer because of what you said that we believe, for we have heard for ourselves, and we know that this is indeed the Savior of the world.'"
(John 4:39-42 ESV)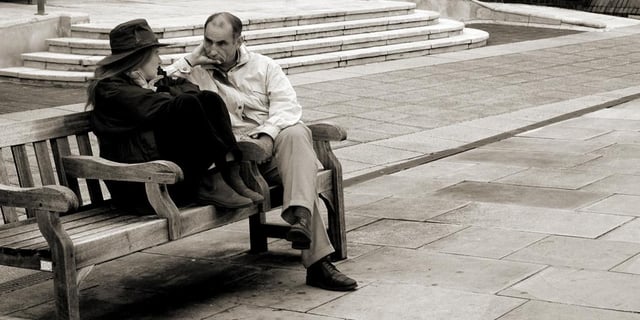 At the young age of 17, I wrote to Christian Universities across the country, saying that I wanted to "devote the best hours of my day to studying and teaching the Bible."
I'd wager that I was not alone; at it's core, such sentiment would likely be found in most Pastor's hearts if they could rewind the tape to their younger years and share why they initially desired to enter full-time ministry: "I want to teach the Bible."
Jesus Himself spent a lot of time teaching. In fact, He preached the most famous sermon of all time (Matt. 5-7). As we begin to unpack John's fourth chapter, however, it's not the famed Jesus whom we encounter, but rather the young Rabbi who hadn't yet addressed a large crowd to teach or preach.
Instead, Jesus had been spending His time building relationships with a small group of men and sharing more intimate conversations with strangers who crossed His path as He journeyed throughout Israel.
We find the longest of these conversations in chapter four when Jesus addresses the Samaritan woman He meets at Jacob's well. As one digs into this famed text, it becomes clear, though it is often overlooked, that Jesus remained in Sychar for two more days to deepen his connection with the rest of the people in the Samaritan woman's neighborhood.
Though one may find the exciting parts of our ministries in the exposition of the Scriptures, the substance of our ministries will always be in the regular conversations we hold with people about their everyday problems and how Jesus fits into the mix of such things.
It is well known that Jesus regularly spoke to gatherings of thousands of people throughout His ministry. John even mentioned that there weren't enough books in the world to contain every story (John 21:25).
Still, our Lord's priorities and passions are evident as we read the gospels: when surrounded by crowds, Jesus consistently demonstrated an acute concern and care for the individual. We don't normally find Him talking at them; instead, we read of Him talking with them.
Do you make time in your ministry to not only teach but to have meaningful conversations with people? Is there space in your schedule to personally shepherd others?
Or put simply, are you available? Ministry is about people and their problems. Follow the example of the Master and build meaningful relationships with those around you. As Jesus said in Mark 1:17, "Follow me, and I will make you become fishers of men."

____________________________________________
For more devotional posts from Brett, consider:
Or, listen to the Exceedingly Enough podcast for a quick source of encouragement and inspiration to you throughout your day.

Image Source: Francois Bester via Flickr