This post talks about how to engage your fans and create an incredible tournament experience. It's part of our series on

sports engagement.
If you had to guess, how many American kids between the ages of 8 and 17 would you say play organized sports? Would you believe that the number falls somewhere between 21.5 - 28.7 million kids? And it's only growing.
The youth sports space is becoming increasingly competitive as the caliber of high school play improves each year. And if parents have dreams of their kids playing at the collegiate level - you better believe they'll start them young.
Since playing on local or school teams simply isn't enough anymore, club teams and tournaments have become essential to developing a child's talent. If you're a tournament organizer, consider these 10 factors to take your tournament to the next level.
1. Fair competition
Top tournaments should be competitive for everyone. Blowouts are not fun on either side. If a team doesn't belong, don't take their donation. Or, think about offering different levels of play.
2. Friendly, helpful staff or volunteers
The best tournaments offer a human, personal, touch, no matter how big. Treat your guests well and they will come back.
3. Good food
Not only are concession stands great fundraisers, but they're also a necessity. Make sure you've got coffee for those morning games. Don't have a concession stand? Find a local food truck. Food is a universal language for hungry parents and athletes.
4. Schedules, standings, scores posted online
Standings and scores in magic marker on construction paper onsite can fun to look at, but a top tournament should post schedules online and regularly update the scores and standings.
5. Games streamed online
Not every parent or family member who wants to watch their kid play can be at the tournament. Make your tournament stand out from the rest by live video streaming your games online. It's even a chance to make additional revenue - call us for details.
6. Options for siblings
Tournaments are action-packed for the athletes playing in the games. But they're often less exciting for the little brothers and sisters who are lugged around and made to sit through hours of games. Whether it's at the tournament venue or after hours, make it fun for the whole family. Keep a court open for shoot-arounds, encourage teams to bring mascots, or consider bringing in arcade games or a petting zoo. The best tournaments will be fun for everyone.
7. A big-time atmosphere
The more similar you can make your event to what we all watch on TV, the better your tournament will be. Bring in a sound system, announce starting lineups, play some tunes during dead time. Here's a fun video from the 2012 Little League World Series showing how much fun this can be.
8. Skills competitions
Highlight individual talent and break up some of the intense team rivalries by hosting skills competitions. They're low-key enough to strip away some of the tournament emotion...but everyone still loves to walk away with a W.
9. Discounts at local restaurants, attractions, lodging
Teams and their fans are traveling from near and far to go to your tournament. Work with local vendors to promote discounts for your guests. It'll bring more business to your vendors and save travelers money. It's just one way you can go the extra mile to ensure that teams return to your tournament next year.
10. Swag
If kids love one thing, it's swag. Sporting a cool T-shirt or hoodie with your tournament name on it gives them bragging rights once they've returned home. And it's a great marketing ploy for you - you're having people pay you to increase the amount of eyes on your brand.
Hosting a good tournament takes a lot of planning. Onsite logistics can be complicated and something unexpected will always happen. Still, with some prep-work, you can make your tournament stand out from the rest, with your participants eager to return.
Final Thoughts + Further Reading
If you'd like to learn more about live video streaming and how it can help engage your tournament's fans, download The Ultimate Guide to Winning the Sports Streaming Game.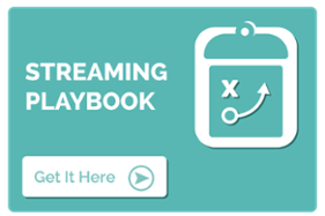 Image Source: Todd via Flickr