It wasn't long ago that the discussion of 4K capture and delivery seemed like an elusive hypothetical. Debates abounded regarding the need for 4K versus its high cost and potentially slow rate of consumer adoption.
Five years ago, you'd have to take out a second mortgage to get your hands on a 4K camera. Today, your iPhone is a 4K camera. The change has been dramatic. 4K is no longer a topic of debate — the industry has clearly arrived.
A New Era in Video Compression
In many ways, 4K is now feasible because of impressive developments in video compression. H.264 (also called AVC), the industry standard for video compression that allows digital video content to be recorded, compressed and distributed, has served us well for many years. But things are changing — and fast.
Advancements in video compression have given rise to H.265 (also called HEVC) and paved the way for video quality not seen before. The way HEVC works is incredibly complex, but its bottom line benefit is this: significant image quality at considerably lower bitrates. And for live streamers, this is an important development.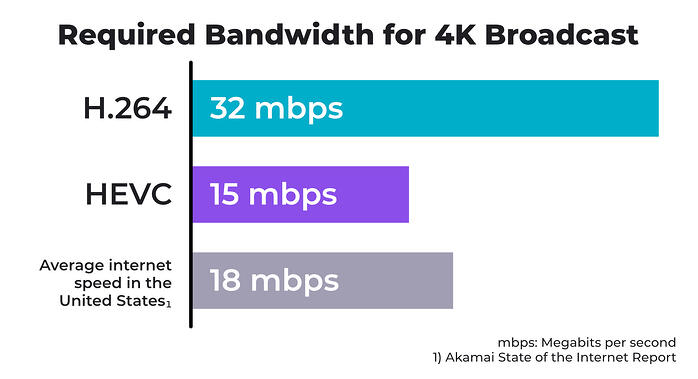 What Does HEVC Mean for Live Streaming?
Regardless of your proficiency in live streamed productions, two things are clear:
1. Live streaming is here to stay.
2. The industry is marching forward toward high bitrate, high image quality formats.
Live streaming is quickly spreading from individuals on Facebook and YouTube to social media influencers, small to midsize organizations, sports franchises, professional broadcasters, and corporate enterprises. As a result, the live streaming industry is going to need the infrastructure to support it.
Final Thoughts + Further Reading
Where BoxCast Comes In
This is precisely why BoxCast has been paying close attention to shifts in the streaming industry. One of our first efforts for getting ahead of this impending innovation explosion is the BoxCaster Pro.
Here are a few other resources you might find interesting:
HEVC (H.265) vs. AVC (H.264) - What's the Difference?
HDMI vs. SDI Video Connections - What's the Difference?
This is Why Your Live Stream Lags: Intro to Streaming Latency
Hardware Video Encoder Comparison: BoxCaster vs Teradek VidiU vs Digicast DMB-8800A
Hardware Vs. Software Encoders: 6 Reasons Hardware Encoders Are Better