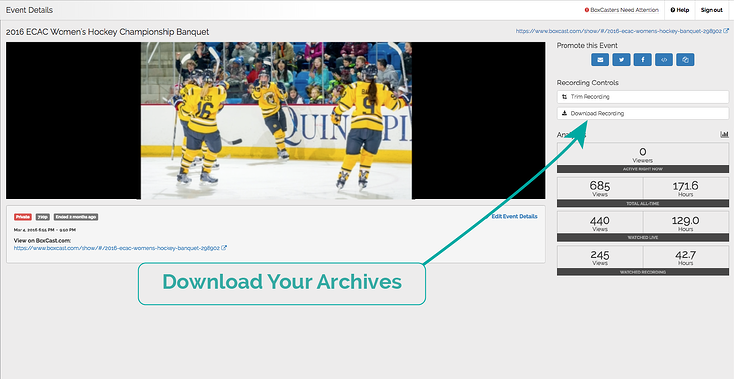 Note: The Downloads feature is not available with every BoxCast streaming subscription plan. Please ask a BoxCast streaming specialist or your Client Manager about the Downloads feature if you don't already have it.


Now, with the click of a button on the customer dashboard, users can access and download an archived version of their stream just minutes after an event is over.
The file will be available as an MP4, making the content easy to view and post-produce. Plus, BoxCast will archive only the highest possible quality stream, reinforcing our promise to provide customers and viewers with the best.
As a sports broadcaster, what does this mean for you?
Upload to Your Coaching Analytics Platform
The National Association of Basketball Coaches (NABC) made it clear that coaches looking to get a step ahead of their opponents should be using new platforms to break down game film.
Your new downloaded stream will sync perfectly these tech platforms, including the most popular ones like Krossover, Synergy, and hudl.
Create Highlight Clips or Pump-Up Videos
It's easy to use a downloaded file to create your own game highlights or pump up videos. Simply upload the mp4 file into your favorite video editor like Final Cut Pro or Adobe Premiere and create your own new content.
We use a downloaded file to create the post-production for our weekly video show, Outside the Box.
Send that highlight to ESPN Top 10
We all love it when crazy plays from lesser-known schools make it to ESPN's SportsCenter Top 10. Now, you can share your school's talent with the world. Once you've downloaded the video and created a highlight clip, send it out to the world using the hashtag #SCTOP10.
To see how else you can best leverage BoxCast's features, check out these 6 awesome new features.