Here's the story of how Saint Ignatius High School in Cleveland, OH built a broadcast program for their students.
"Follow a passion."
That's what high school students navigating the complex college admission process are often told by parents, advisors and mentors who insist that pursuing a passion is what will bring them success.
These days, however, students are often so committed to their schoolwork, part-time jobs, and involvement in athletics and the arts that they have minimal time and experience to pursue a dream career.
There is the occasional exception, however. And Brendan Gulick, a 2009 graduate of Saint Ignatius High School in Cleveland is quite an exception.
A Dream to Broadcast
At a fairly early age, Gulick decided that he was, in one way or another, going to bring his passion for broadcasting to his Alma Mater. No one could have imagined how Brendan's ambitions, when coupled with hustle, appropriate resources, and amazing mentorship, would grow to be an asset within the walls of Saint Ignatius and beyond.
In Gulick's mind, the problem was simple: Nobody was announcing his school's basketball games in a way that anyone beyond the court could hear them. For a school with immense pride and as an active alumni association as Saint Ignatius, this simply wasn't acceptable to him.
He approached his athletic director with a solution. He wanted to take a shot at bringing his dream to life by starting a Saint Ignatius broadcasting program.
Within a matter of months, Gulick researched the equipment he would need, found an online audio-streaming service, and even secured outside funding for the new program. By the 2007-08 basketball season, students were broadcasting games to online listeners far and wide.

The Birth of a Network
The program started with a small following of about 100 people. Still, feedback was positive and word got out.
When Jeff McCormick ('83) joined Saint Ignatius as Annual Fund Director a few months later, he knew he could do his part to help the broadcasting program grow. After all, McCormick had experience at the collegiate and professional level calling games.
Working together, Gulick and McCormick formalized an official student broadcasting group and began to outline what it could do. They called it the Saint Ignatius Broadcast Network (SIBN) and quickly held tryouts to recruit students.
The founders' passion for SIBN was contagious. The initial SIBN members were composed, professional, and kept pushing McCormick for more innovation.
McCormick knew that live video streaming is what he needed to improve the already-existing audio stream. His options were limited at first, as the world of video streaming was still in its infancy.
Undeterred, McCormick worked with a variety of streaming providers before discovering BoxCast in the spring of 2013. He knew he had found what he was looking for, as the ease and high definition quality of BoxCast's service is what SIBN members needed to take their operation to the next level.
McCormick was right. With BoxCast in tow, they haven't looked back.
Building a Premier Broadcasting Program
SIBN has become an official affiliate for the Ohio High School Athletic Association (OHSAA) and is the single largest student-operated high school sports broadcasting outlet in the state. The club has announced at six OHSAA state championship games and the ESPN Rise National Championship soccer game. This year alone, the SIBN will cover nearly 100 Saint Ignatius events, including seven different sports and other on-campus events.
It's undeniable that SIBN successfully accomplished one of its first goals: to engage Saint Ignatius' larger community and lively alumni group. Just in the year 2015, more than 66,000 people tuned in to watch SIBN-broadcasted events. Even when given the option of watching on a local television station, many viewers choose the content produced by SIBN.
McCormick fondly recalls one scene in particular that justifies all his hard work: He was broadcasting a basketball game when an athlete's grandmother scouted him out and tugged on his arm. Entirely unassuming, McCormick was taken aback when he learned that she had only come his way to convey her deep appreciation. She thanked him for the streams, saying she would have almost never otherwise been able to see her grandsons play.
He notes that moments like that "make you take a step back and think 'OK, we're doing really well. What we're doing is legitimate.' After all, SIBN is a means to an end — it keeps people connected, and that's a great thing."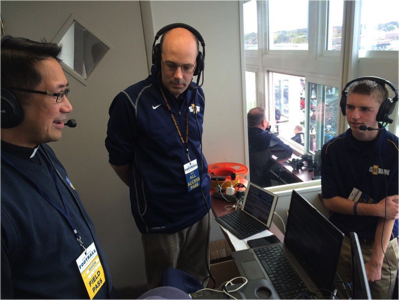 Preparing for the Future
Though impressive, the program's reach is possibly outshined by another benefit of SIBN: the opportunity to teach and develop a student's interests beyond the classroom.
Every student member of SIBN has committed himself to this extra non-academic activity. He must rise to meet the high expectations placed on the group, as his involvement is a reflection of SIBN as a premier broadcasting organization and Saint Ignatius as an institution.
Many students who go through the program discover a true love for their craft. With such dedication, it's unsurprising that several SIBN alumni have continued to pursue sports broadcasting after graduation:
In his four years at John Carroll University, Gulick was twice ranked among the top 13 collegiate sportscasters in the country. Since graduating, he spent two seasons working in professional baseball, worked full-time for a commercial radio station and has broadcasted football and basketball at five NCAA institutions.
Now, Gulick works along the east coast in two capacities: He is the play-by-play voice for the Delmarva Shorebirds, Class A Affiliate of the Baltimore Orioles. In the baseball off-season, he broadcasts basketball games for the University of Maryland Eastern Shore Hawks Men's and Women's Basketball programs. Gulick provides play-by-play for nearly 200 games per year and he also hosts a weekly coaches show for the Hawks. He recognizes the role SIBN played in his success.
"Any industry professional will tell you the most important thing for journalism students to do is get on-air reps," explains Gulick. "There is no better teacher than actually broadcasting games and then going back and reviewing your tape with someone who can give you constructive feedback."
That likely speaks to the reputable career of Michael Watts '11, a recent graduate of Fordham University. There, he spent three years calling Division I collegiate sports at award winning NPR-affiliate WFUV. In addition to calling the school's championship games, Watts spent a season as the voice of the National Women's Soccer League's Sky Blue FC. His work has earned him the prestigious Marty Glickman Award from WFUV and additional honors from the New York State Associated Press Broadcasters Association and the New York State Broadcasters Association. He has also covered the Rangers, Red Bulls, Knicks, Mets, and Yankees as a member of the New York media.
Though SIBN can't take full credit for these careers and others like them, McCormick is confident that the SIBN experience is, in most cases, his students' first exposure to the broadcasting careers they could have.
A Teacher of Life
When Gulick first encountered McCormick, Gulick already knew his passion lay in broadcasting. Not every student is so lucky. McCormick should sleep a little better each night knowing the full impact he has made on the life of every student who makes his way through SIBN, perhaps even sparking new broadcasting passions.
Because if nothing else, the success of the SIBN shows what amazing things can happen with a dream, the right amount of buy-in, appropriate resources, and a dedicated leader like Jeff McCormick who cares.