Nowadays, live streaming is becoming a necessity for organizations that want to reach sizable remote audiences. If yours is a large organization with numerous employees working in various locations, you may already know how important streaming is for staying connected to staff — especially for all-company, monthly, quarterly, and annual meetings. Or perhaps your organization just needs to broadcast special events to a lot of viewers watching at home.
Additionally, if your organization has a great deal of events happening at the same time, you may need to stream them simultaneously. When folks can't gather in large numbers, concurrent broadcasting like this is key for keeping remote viewers engaged. Overall, however you use live streaming, if you have scads of people tuning in from different areas, you need to ensure that your service is incredibly reliable to maintain the professionalism your brand requires.
What We Mean By "Incredibly Reliable"
You obviously don't want your broadcasts to be blurry or to cut out from time to time. You want your streams to look great, and you want everyone watching from wherever they are to have an excellent viewing experience. Though platforms like YouTube are generally considered reliable, their frequent ad interruptions paired with regular buffering might not be the best match if you're looking to deliver a consistently excellent experience to your large audience. On the whole, reliability should never be compromised, and should match the pro-HD streaming expectation of our general population.
Going "Viral"?
If you're streaming events that have a large fan base, or the potential for tremendous viewership, make sure you have a streaming service that can carry the load. Having tens of thousands of people watching all at once can be stressful — for you and for a Content Distribution Network (CDN). BoxCast's advanced CDN can scale to handle any size audience (from just one person to well over 1,000,000 viewers), so if your live stream pops off, we've got you covered.
Ensure Solid Streaming Performance
Does your ISP ever throttle when there's a lot of outbound traffic? Has your upload speed been known to fluctuate every now and again? Do you plan on streaming from remote locations? If you answered "yes" to any of the above, then you ought to make sure you have an encoder that can handle the bad times as well as the good. Our BoxCast Flow does a bang-up job of handling network congestion, preventing buffering, obfuscating your video data for security, and adjusting to varying conditions.
Add Captions
If you have a lot of eyeballs on your streams, you probably want to make them more accessible. Live captions can help you do just that for viewers who are hard of hearing or watching in a sound-off environment. Our captions are also nice to have for major announcements if you don't have an on-screen sign language interpreter at your disposal. BoxCast's Automated Live Captions feature automatically creates captions that are perfectly synced up with your live stream audio.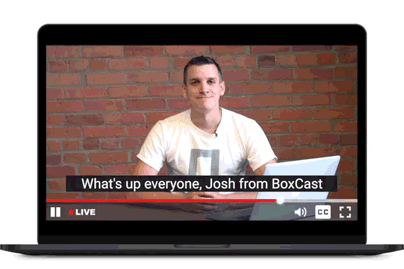 We've Got Your Back
In addition to reliable technology and a strong streaming plan, it's crucial to have dependable support to help you troubleshoot any technical problems that could crop up when you're broadcasting a large-scale event. We're here for you if that happens. Our friendly and knowledgeable streaming coaches are always willing to help you work through any issues by phone, email, or chat.