Thousands of organizations use ProPresenter for enhancing events with

top-quality

presentations and production elements. This post will teach you how to set up your workflow to integrate BoxCast and ProPresenter.
Integrating ProPresenter and BoxCast
With ProPresenter 7, you can live stream your ProPresenter feed directly to BoxCast using their RTMP option. This lets you continue using your same workflow and turn the computer running ProPresenter into the live stream encoder. Read this article to learn more about how to connect it to BoxCast.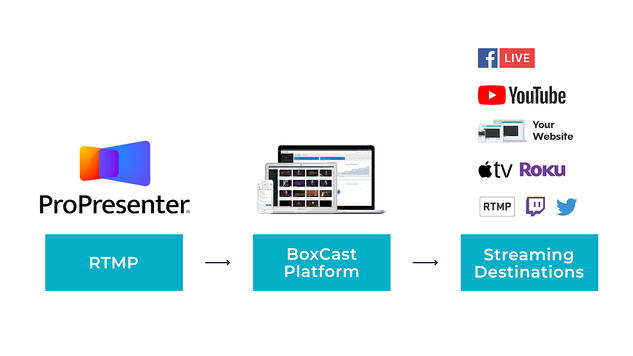 If you have a single-camera feed you're using for your live stream, you can use a simple video capture device (like the Elgato Cam Link) to take the feed from your camera to your computer with your ProPresenter software.
Note: This capture device can be an external or internal card. The way it connects to your computer varies.
Using ProPresenter, you can integrate your presentations and add lyrics as well as other production elements to your video.
With an HDMI output from your computer, you can send the production feed from ProPresenter to the BoxCaster, which will encode your video. Using the BoxCast platform, you'll be able to stream your production to viewers across multiple destinations.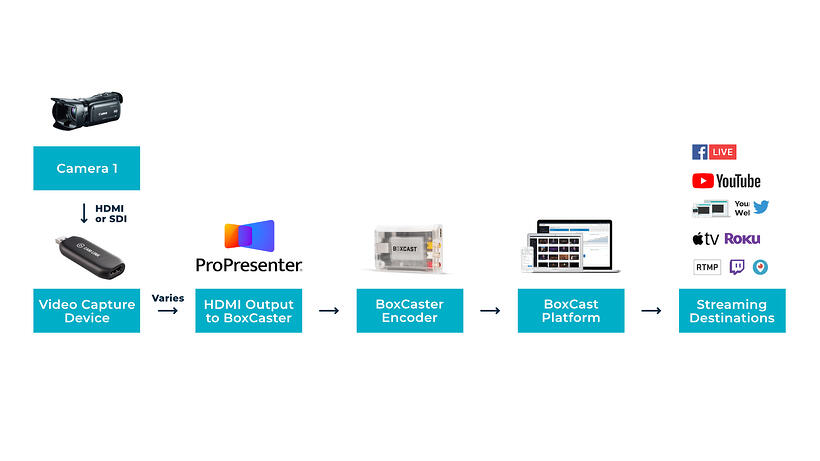 What if you have more than one camera?
If your video setup contains more than one camera feed, you'll need to integrate a video mixer into your workflow in place of the simple video capture device. A video mixer (like the Blackmagic ATEM Television Studio HD) will allow you to choose from multiple video sources to bring into ProPresenter.