This post addresses the different ways that live streaming platforms like Facebook Live, YouTube, Twitter, and BoxCast measure viewership. It's part of our series on How to Start Live Streaming.
Since the beginning of television, the most important metric for broadcasters has been viewership. In the days before the internet, live video audiences were measured, in the form of television ratings, by precise calculations from outside groups.
Fast forward to the digital age and you find a wild world of unregulated measurements. In the internet age, companies can measure viewership however they want.
As a broadcaster, you may find the lack of consistency in reporting frustrating, especially if you simulcast to multiple destinations. What does it mean to have 543 viewers on Facebook Live vs. 245 on YouTube Live? How can you compare across platforms and measure your true reach?
In this post, we break down the different platforms and considerations for measuring your live stream viewership.
The Viewership Metrics that Matter
From a viewership standpoint, there are three numbers that you should track as a broadcaster: total live views, concurrent live views, and total views. You should be keeping tabs on other relevant analytics as well, but these three will give you an understanding of your reach.
Total Views- the total number of viewers who tune into your video content while it's live and after it's recorded for on-demand playback
Total Live Views- the total number of viewers who tune into some portion of the stream while it's live
Concurrent Live Views- the maximum number of viewers watching at once at any given point in your broadcast


A Comparison between Facebook Live, YouTube Live, and BoxCast Viewership Reporting
On July 27, 2018 we hosted a launch event for our BoxCaster Pro. Our own internal team live streamed the event from our office. We simulcast the stream to Facebook Live, YouTube Live, and our own website. As I write the initial draft of this post at the beginning of October, it's now just over three months since the event. Let's take a look at the viewership reporting for each of these destinations:
Facebook Live- 1.3K Total Views
YouTube- 2.6K Total Views
Website (BoxCast)- 986 Total Views
Facebook Live
1.3 K Total Views
In the video summary, Facebook reports 3,873 reached which means that it showed up in that many people's timelines.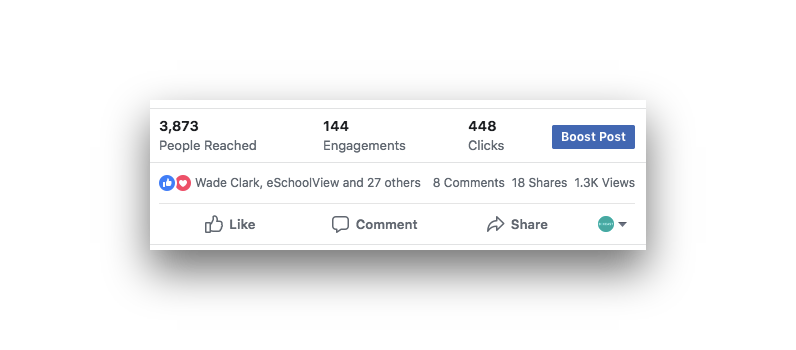 However, of those, only 1.3K actually viewed a significant amount of time for the video. What's a significant amount of time? For Facebook, it's 3 seconds.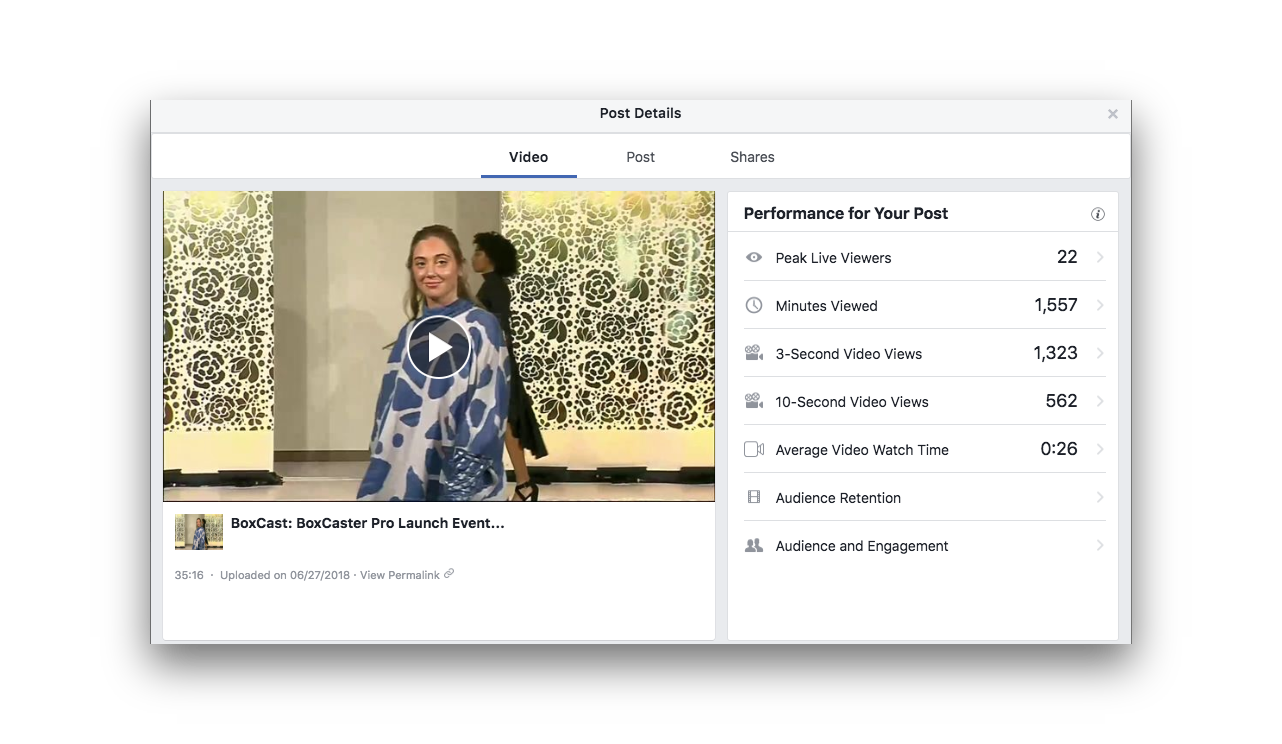 In the deeper analytics of this post, we see that while we reached 3,873 people, 1,323 viewed the post for 3 seconds, and only 562 viewed for over 10 seconds.
The average view time was only 26 seconds.
Unknown Total Live Views
Unfortunately, Facebook does not separate total viewership from total live viewership for you, so we don't know the proportion of viewers that were 'live.'
22 Concurrent Live Views
At max, while live, 22 people were "watching" the Facebook live stream of our launch event. This low number furthers the evidence that our Facebook stream reached a large number of unengaged viewers in their timeline.
Facebook Live Takeaways
On the surface, the reach and the total viewership for Facebook looks fairly high. But digging down, you realize what the average view is actually like on Facebook: it's someone scrolling through their timeline. They may be intrigued by your video that autoplays in their feed for a moment, but then they scroll away within seconds.
Social platforms like Facebook Live want you to believe that their platforms are the best for reaching viewers. For that reason, their total viewership summary reporting practices tend to overstate how many truly engaged viewers your stream attracted.
YouTube
2.6 K Total Views
If you go to our account on YouTube, you'll see that our launch video is now up to 2,655 views all time, twice as many as on Facebook.

YouTube doesn't officially state the minimum length of a view to be counted. Instead, YouTube opts for it's own internal algorithm for calculating views. While that might initially seem suspicious, consider the fact that YouTube is not a feed-based autoplay social platform, so they suffer less from the two second scrolling view count issue.
On the deeper analytics details within our account, we see that the average view duration for all time is 5 minutes and 24 seconds, a sharp contrast to Facebook's 26 seconds.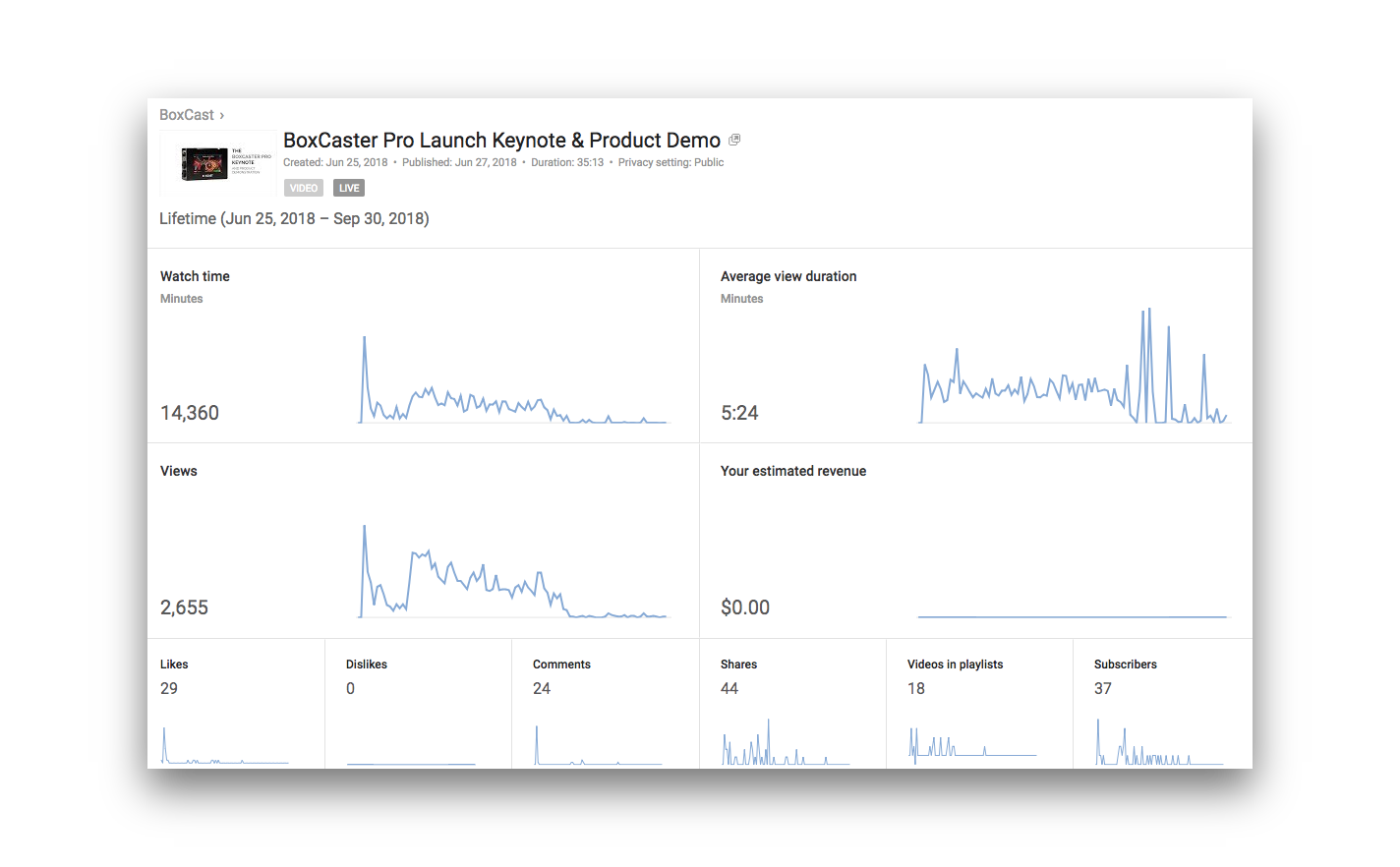 Unknown Total Live Views
Unfortunately, like Facebook, YouTube does not separate total viewership from total live viewership for you.
49 Concurrent Live Views
The live stream analytics view reveals that the YouTube presentation of the stream peaked 26 minutes into the broadcast with 49 concurrent viewers.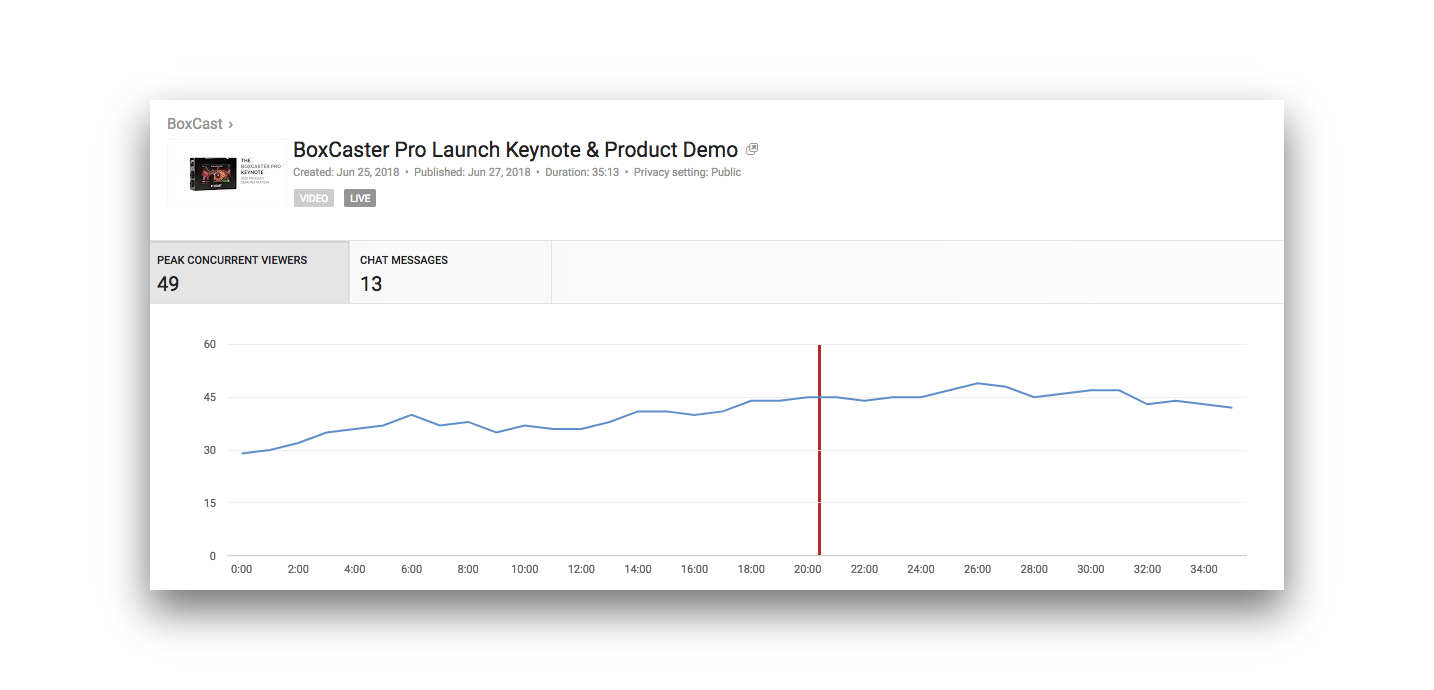 YouTube Takeaways
Any broadcaster who has spent significant time streaming to both YouTube and Facebook Live would tell you that a view on YouTube means more than a view on Facebook. YouTube viewers are more engaged viewers because those are the ones who seek out your video content instead of stumble into it.
Additionally, your YouTube recording of your live stream will have a longer life than a Facebook Live stream. While the Facebook Live recording fades away into your timeline, the YouTube recording will live on as a standalone video on the internet's second-ranked search engine.
Embed on Website (BoxCast)
While we simulcast the event to several destinations, we drove many people to a landing page on our own website for the stream. We prioritized this spot because our viewers could go from that page to other relevant resources on our website to provide additional information. The analytics collected on the platform include viewers on our website as well as those who watched on a BoxCast.tv link.
986 Total Views
With BoxCast, viewership numbers are not public like they are with Facebook Live and YouTube. However, in the analytics summary on our BoxCast dashboard we can see that we sit at just under 1000 views here.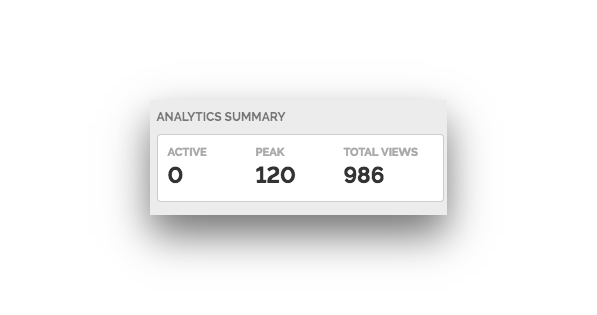 BoxCast video don't exist on a scrolling feed like Facebook videos do. They also don't automatically start at the conclusion of another video, as is the case with YouTube videos. Viewers actively go to a link click a play button to watch. That action is the mechanism we use to count a view.
284 Live Viewers
Looking into the details of the stream analytics, we see that about 30% of the viewers to date were live viewers.
These live viewers spent an average of 13 minutes, 28 seconds watching, while the viewers who tuned into the recording of the broadcast watched for about 9 minutes, 19 seconds apiece.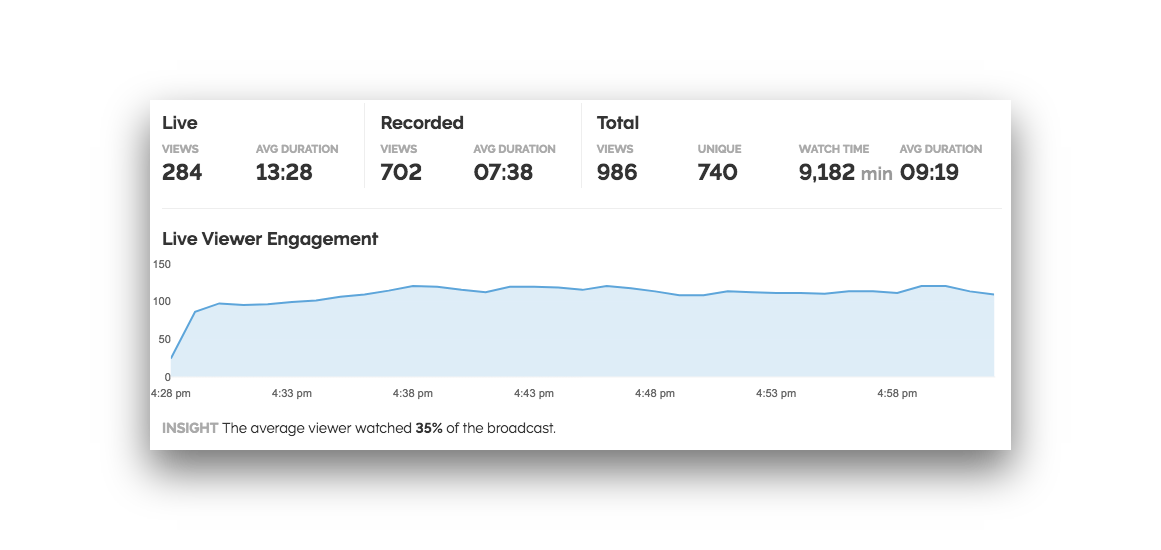 120 Concurrent Live Views
From the summary view as well as the viewer engagement chart, we can see that viewership on the website peaked at 120.
Embed on Website (BoxCast) Takeaways
While the viewership totals were lower on our website than the two other simulcast destinations, the content engagement levels were much higher than the other platforms. We controlled the story. Viewers were not distracted by other content on the side of the video.
Also, Twitter
We didn't stream our launch event to Twitter (or Periscope, at the time. Twitter sunset Periscope in March 2021). Of the social platforms, Twitter is our least followed, so we chose to focus on the others first.
We did, however, simulcast a webinar to Twitter last week. So we can look into that to understand how the platform reports viewership.
57 Total Views
Twitter doesn't provide a similar level of enhanced analytics you see on the other platforms. Within your Twitter account you can see how many total live and recorded views you received.
A view is recorded when someone actively presses play or watches for at least 3 seconds if the video started automatically.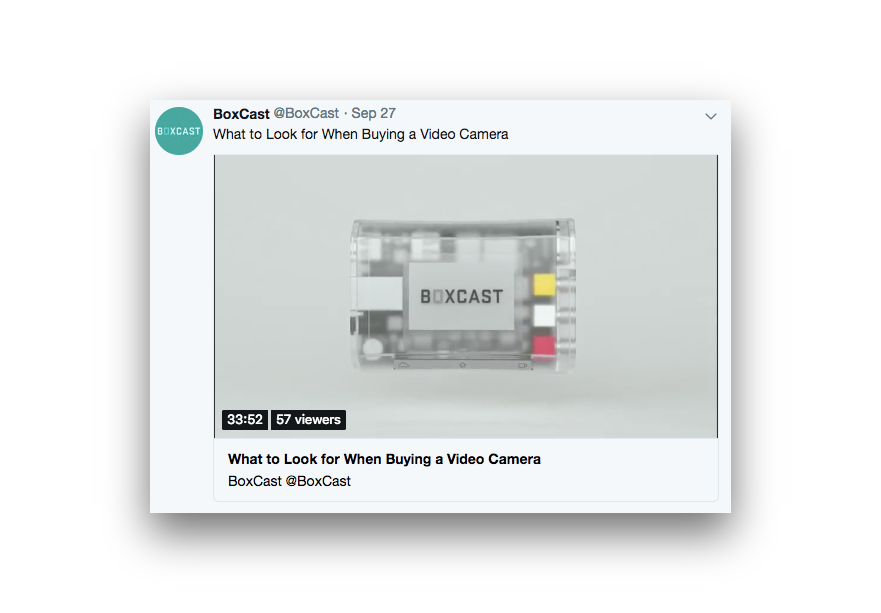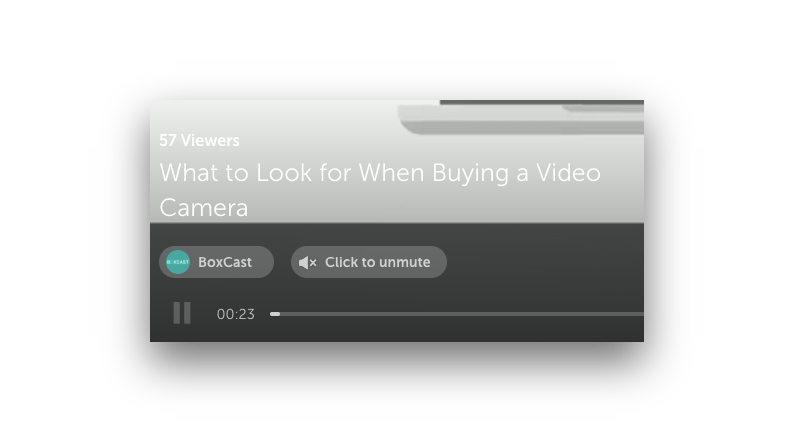 Unknown Total Live Views
Like Facebook and YouTube, the separation between live and recorded views is lacking. You can see the account names of live viewers, but the total number is not in an actionable format. Since the analytics aren't in an actionable format, it's hard to use them for comparison.
Unknown Concurrent Live Views
While you can see how many people are tuned in during the broadcast, Periscope doesn't give you insight to the peak after the broadcast.
Twitter Takeaways
Without many of the supporting metrics for understanding viewership, it's tough to truly compare Twitter reach to other platforms.
Final Thoughts + Further Reading
Not every live stream view is created equal. As a broadcaster, you have to determine for yourself which viewers analytics are most important to you.
At BoxCast, we will continue to simulcast to social destinations as we hope to expand our reach. Facebook Live is an important destination for reaching our audience. However, we will always take the view count on Facebook with a grain of salt, understanding that the number doesn't represent engaged viewers like it does on our other destinations.
For more information on the other analytics that broadcasters should track, check out our article on how to approach live stream analytics.
For a great experiment in understanding viewership on even more online video platforms, check out this post from Buffer.
Happy streaming!