Flexible Mounting options
One of the best things about the FDR x-3000 is that you can mount it virtually anywhere. A 1/4-inch screw mount located directly on the body of the camera lets you mount it to a tripod, light stand, or even an inexpensive clamp. Most other action cameras only have mounting thread on a weatherproof hard case (which prevents you from outputting a live feed) or require you to buy a separate accessory mount.
High-Quality Video for Live Streaming + Recording
The FDR-X3000 can record 4K video at 30 frames per second (FPS) internally, but if you're using it as an action camera or for live streaming purposes, you're better off recording in 1080p and getting a smoother 60 FPS. For live sports and content with a lot of action, 60 FPS is going to make for a better streaming experience.
No matter what resolution and frame rate you decide to use, the FDR-X3000 outputs and records high-quality video, making it excellent for both live production and creative video applications.
Clean Video Output + Additional Inputs
The most important feature of this camera for live production users is the ability to output a clean signal over HDMI. We've had mixed results when trying to output a signal from various Go Pros, and were pleasantly surprised to find that the FDR-X3000 can output a clean signal over 1080p, 1080i, and even 4k.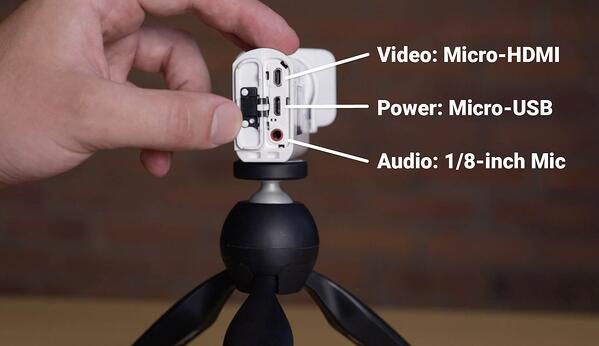 Note: The HDMI output is micro. These cables typically don't run very long, so you may want to convert it to SDI or buy an HDMI extender if you need to send it more than 15 feet.
It can also be powered over micro-USB, so if you're using it for long-form content, you can just attach a USB power pack to ensure it'll run for long periods of time.
Lastly, there's a 1/8-inch microphone input on the body of the camera, which is highly useful for streaming setups without a separate audio mixer.
Great addition to multi-Cam setups
The FDR-X3000 offers a great bonus shot when recording and live streaming multi-cam events. It's ideal for a behind-the scenes shot or for showing an entire room to set the stage for your viewers. It's also good for showing something specific like a drum cage, or for anything else happening that you want to immerse your viewers in during an event.
Final Thoughts + Additional Gear
The gear below pairs nicely with the Sony FDR-X3000 to optimize a live video workflow. Check out all of our favorite streaming equipment at kit.co/BoxCast.