We live in a world where people are quick to praise the new and deride the antiquated. When it comes to song selection in our churches, this spirit of our age makes it easy to discover contemporary music and incorporate it into our services.
Though this has many benefits, too deep a fascination with novel melodies poses a danger that our worship will stray far from the invaluable canticles of the past. To combat such deadfall, it's important to make a concerted effort to seek timeless and meaningful hymns.
Below, you will find a handful of unfamiliar hymns written quite some time ago. These songs have been sung for generations by the people of God. We've included a link to the audio of these ancient songs as well as a chord chart so that you can easily incorporate them into your Sunday morning worship gatherings.

"THE LOVE OF CHRIST IS RICH AND FREE"
Our salvation is wholly based upon free grace of God. This gospel has been heralded and proclaimed through song throughout the ages and is captured beautifully in Gadsby's words from a few hundred years ago: "He'll love His own to endless day."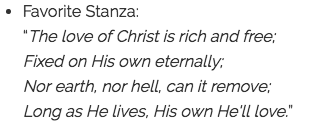 "DEAR REFUGE OF MY WEARY SOUL"
The Christian life is filled with joys but is also filled with sorrows. Though our hearts often long to rejoice in the love of God, at times they desire to seek His face in honesty and brokenness. 'Dear Refuge of My Weary Soul' is an appropriate musical prayer of pleading and faith, especially in the midst of difficult circumstances.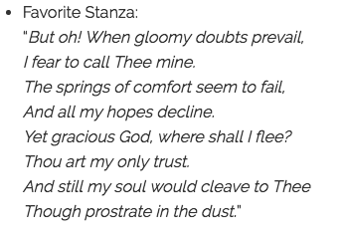 "THY MERCY MY GOD"
Music can recalibrate our hearts to pledge our devotion afresh to our Lord and Savior for His unfathomable mercy and favor. In 'Thy Mercy My God,' Stocker adequately expresses the acute reason for our joy – the rich and bountiful mercies of our righteous God.

"JESUS, I MY CROSS HAVE TAKEN"
Few songs better capture the concept of discipleship than Lyte's 19th century hymn. From a personal perspective, no song I have ever sung has better served as a catalyst to bend the knee before Jesus and follow Him in my daily life. I treasure many Christian songs, but this is perhaps the hymn that I treasure above all.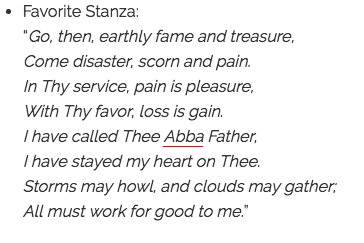 "O LOVE THAT WILL NOT LET ME GO"
George Matheson's lyrics penned over a hundred years ago speak to the challenges and joys of the Christian life. He acknowledges the trials of following Christ while simultaneously filling the hymn with glorious praise to God for the blessings we experience by being in Christ. We sing of God, not ourselves as the champion of our faith. How appropriate and edifying.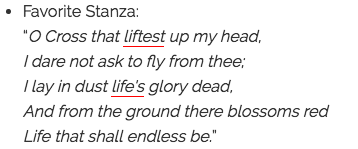 It is my prayer that these psalms will spur your heart on to praise and your mind to a more committed devotion to our Lord and Savior Jesus Christ.
Suggested Reading:
If you enjoyed this post, we suggest you read The Top 5 Ministry Books Every Thoughtful Pastor Should Read. We hope you find it inspiring.


Image Source: Keith Riley-Whittingham via Flickr