Pastors around the country are rapidly discovering the importance of social media.
Social media giants like Facebook and Twitter are no longer solely geared to college students; now, they're how people of all ages communicate. Church leaders, in their unique position to spread God's word, have begun to use these platforms to their advantage.
This post articulates why – when it comes to your ministry – social media is here to stay.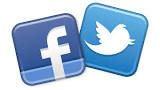 Increased Transparency
David Kinnaman, president of Barna Group, an evangelical Christian polling firm, affirms that "social media is here to stay, especially as younger leaders come to be senior pastors. When used properly, social media should make organizations and leaders more transparent and more connected with the people they lead."
In our increasingly digital age, people want to feel deeply connected to everything that they do. We can see Director's Cuts of movies, keep up with celebrities' daily lives on Instagram, and see what people are up to on Snapchat. The fact of the matter is, Christians and non-Christians alike are spending more and more time on their smart phones, tablets and computers.
And if people are spending their time on these social media platforms, shouldn't your ministry meet them there?
connect with your community
By posting the service on Facebook, Twitter, or even their own website, churches can connect with people where they already are, expanding the reach of their ministries and affecting the lives of more people.
Effectively reaching one's community and engaging a congregation has always been a goal of the church. New technologies have emerged that enhance a pastor's ability to do so.
The power of live VIDEO STREAMING
Live video streaming one's services is a way for churches to benefit from social media even more.
On any given Sunday, not every congregant can make it to church. No longer does this mean that people have to miss out on the service entirely. Though nothing can compare to the communal aspect of joining a congregation on a Sunday, churches that live stream their services provide their physically-absent congregants with the chance to connect to their ministry.
Technology should never be at the forefront of anyone's ministry, but it can be a wonderful supplemental tool to spread God's word.
For more ideas on how live video streaming can help your church share it's message in a digital world, download this free pastor's guide: