In this post, we'll reflect on the major trends in live streaming over the last five years. Then we'll make some predictions on how the industry will continue to develop into the future.
In 2018, BoxCast celebrated its 5th Birthday 🥳 !
It's been a wild ride so far. The live streaming landscape going into 2019 barely resembles that of 2013. It's a fast-paced world, but that's what makes it so exciting.
The Past 5 Years
In 2013, live streaming was not accessible for many organizations. Complexity reigned. Enterprise platforms charged small fortunes and promoted their own brand to broadcasters' audiences.
These were the circumstances at the birth of BoxCast. Our co-founders believed live streaming could be a powerful tool for organizations and that the live streaming process could be easy.
Five years later, our co-founders' intuitions proved true. Looking back, we are proud of our contributions to make live streaming approachable for all. Here's what's happened:
Live Video Workflows became easier.
Back Then
Regardless of the simplicity of your production, all live streaming setups used to be complex.
In addition to video equipment, broadcasters needed encoders, transcoders, networks, servers, CDNs, and web players to make the video show up online. More importantly, they needed to know how to connect all these pieces and ensure they worked harmoniously (most of the time, they didn't connect well at all 😬 ).
Most of the live streaming world used software encoding. That workflow required a computer, which added to the general messiness of the setup.
Complexity forced organizations to lean on external consulting and IT companies for help. Translation: live streaming required 💰💰💰.
Small and mid-sized organizations couldn't handle the complexity or expense, so they often didn't even consider live streaming.
What Changed
The cloud became the automated hub of complex elements like transcoding and distribution. Previously-separated workflow elements combined into simpler and more powerful platforms, like BoxCast.
At BoxCast, we focused on compatibility and ease-of-use. We created the BoxCast Platform to transfer, deliver, and present live video. We built the BoxCaster to connect to any production setup (no computer necessary!).
The intuitive BoxCast Dashboard controlled it all. Anyone could be a broadcaster. IT needn't get involved.
The consolidation of the processes to a reliable end-to-end platform cut down on costs. We gladly passed the savings on to broadcasters. In doing so, we helped make live streaming available to more organizations. Today, thousands of houses of worship, schools, governments, and video producers use BoxCast to live stream their events.
Live streaming became social.
Back Then
In 2013, YouTube was already exploring the world of live video. Their team built a platform for streaming a few years prior, but it was only open to a few high profile creators. Beyond that small-scale experiment, live streaming on social media didn't exist.
What Changed
In 2016, Facebook Live expedited the adoption of live streaming by the masses. Facebook wasn't the first social platform to roll out live streaming, but its entrée proved most impactful.
Here's the timeline of the rollout of social streaming:
December 2013
YouTube Live Streaming via encoder available to all

March 2015
Periscope via mobile purchased by Twitter and launched weeks later

February 2016
Facebook Live via mobile available to all

September 2017
YouTube Live Streaming via mobile available to users with 100+ subscribers
Social streaming enabled broadcasters to reach new audiences. Instead of relying on viewers finding their stream, broadcasters found their viewers.
At BoxCast, we quickly integrated with these social platforms. We empowered broadcasters to stream to as many destination as they needed (including their own websites) at the same time.
We made it easy by allowing them to schedule it all from one place. This process (we now call it simulcasting) did not exist back in 2013, but it's a core part of what we do today.
The graph below shows the growth in social streaming from BoxCast customers. Currently, around 40% of our customer's broadcasts stream simultaneously to Facebook Live, 17% to YouTube, and 5% to Periscope (Twitter).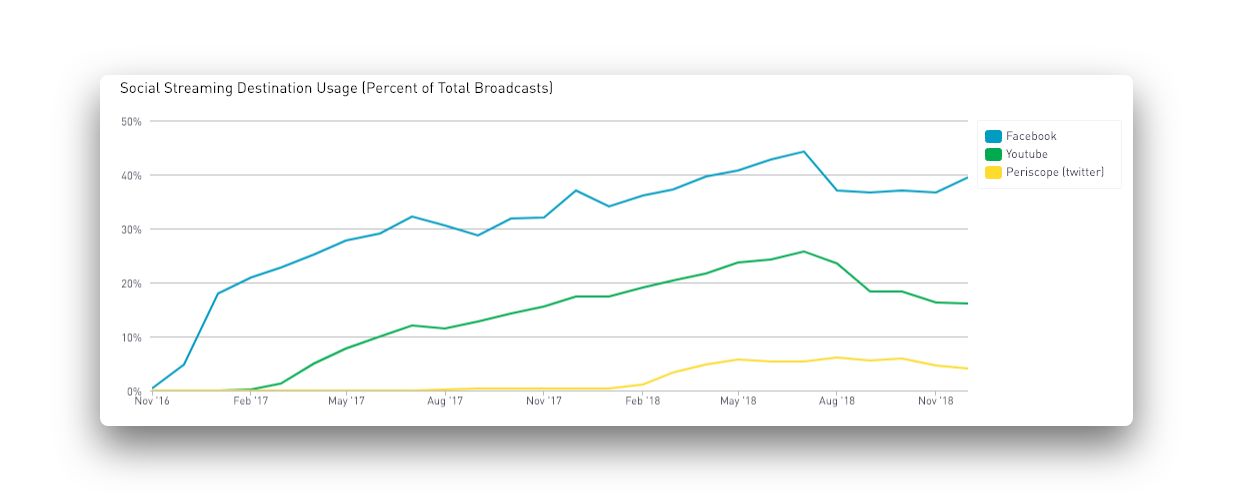 Live streaming broke free of Flash.
Back Then
In the 1990s, Adobe built their Flash player to assist in the display and interactivity of rich audio and video. It quickly became an internet standard.
In the 2000s, Steve Jobs and the team at Apple delivered the first major blow to Flash by not allowing it on the iPhone. Over the next few years, browsers developed Flash alternatives for on-demand video. Unfortunately, the live streaming world remained stuck with Flash. Browsers didn't support the many live streaming codecs, container formats, and delivery mechanisms.
In 2013, Flash was still the dominant rich media delivery mechanism for live video. It was a problem for everyone.
Our VP of User Experience, Mike Griffith, explained it best in a post from back in 2016:
"(Flash is) riddled with security holes that put you at risk of malware. It eats your laptop's battery like my yellow lab chowing down on my kids' discarded carrots."
What Changed
The Media Source Extensions (MSE) spec stabilized and gained broad adoption. With MSE, developers converted audio and video sources to a browser-supported format.
YouTube started experimenting with MSE in 2013. Netflix followed in 2014. By 2016, most viewers had upgraded to a browser that could take advantage of the technology.
That year, BoxCast unveiled a new video player built on MSE. We took HLS video streams, converted them to MP4s that browsers can understand, and applied adaptive streaming logic.
In short, we circumvented Flash.
Around the same time, Google announced Chrome would no longer support Flash. The live streaming world moved on.
Gamer streaming headed a different direction.
Back Then
With few options on the market in 2013, live streaming platforms were one-size-fits-all solutions. If you wanted to live stream a church service, a video game, or a soccer match, you had the same few options.
What Changed
Solution specialization occurs alongside rapid industry growth. Some platforms become good for one specific purpose. Some providers started to focus on streaming video games.
Platforms like Twitch and (more recently) YouTube began to focus on the gaming world. They prioritized live streams from screens and webcams and integrated real-time interactive chat.
Meanwhile, platforms like BoxCast found our home with organizations and their events. We believe in live streaming any event that is viewed live in person. Our goal continues to be empowering high-quality live streams for that purpose.
Video quality standards increased.
Back Then
Many of those early to live streaming did so with standard definition video (480p). Standard definition had been, well, the standard for decades. In 2013, prices for HD gear were falling, but many broadcasters still used older equipment.
Broadcaster network upload speed and viewer network download speed limitations contributed to the lack of buying frenzy around cheaper HD gear.
Standard definition was good enough because few had set the standard higher.
Add to all that, viewers couldn't watch HD on their computers or phones and their TVs weren't connected to the internet.
What Changed
A variety of factors sunk the standard definition standard.
HD video camera prices continued to fall. Networks continued to improve. Live streaming compression standard changed. Smartphones developed quickly. Smart TVs became the norm.
Most importantly, standards increased. On-demand platforms like Netflix and YouTube challenged the video resolution status quo. Broadcasters felt the heat to up their game as well. The viewer benefitted.
The graph below shows video resolution requests from broadcasters to our platform. Much of the demand for a 480p has decreased as HD (both 720p and 1080p) has become the new standard.

The Next 5 Years
It's fun to reflect on the past five years and our own role in bringing high-quality live streaming to everyone.
It's even more exciting to look forward to the future. The live streaming industry is speeding up. Buckle up with us and enjoy the ride. Here's what's in store:
The internet barrier will crumble.
Network upload speeds continue to be the biggest obstacle for broadcasters. A strong, stable internet source is vital for streaming.
Many organizations still don't have the time or budget to invest in a better network. Others maintain production setups that rely on wifi instead of a hardwire connection. Still, others suffer from variations caused by rotating venues or more mobile locations.
Organizations will continue to invest in their network infrastructures. Poor internet becomes a bottleneck for many organizational functions. Poor networks will become an even more pressing issue.
The new HEVC (also known as H.265) codec will also drive down bandwidth requirements. At BoxCast this year, we introduced HEVC in our BoxCaster Pro and Broadcaster iOS app. The most powerful video codec to date, HEVC enables high quality streaming at half the bandwidth. It's a game changer for broadcasters and a major step toward eliminating the internet problem.
Wifi chips and router technology will continue to improve. The impending introduction of 5G cellular will add an interesting twist to this discussion. Will a 5G cell service compete with a mediocre ISP service? Only time will tell.
Mobile devices will be used for professional live streaming.
Better network solutions will lead to better mobile device streaming. Recent major mobile video capture improvements will be as significant in the cause.
Top quality video cameras remain a better option for video capture than a phone. That will always be the case. Yet, it is no longer possible to deny that phones can now capture professional level video. The iPhone X can record 4K60 video. As of November 2018, the Broadcaster App can stream 1080p60 over HEVC. That's not something to scoff at. It will only get better.
Video quality will start to blow our minds.
Beyond mobile, we are witnessing exponential developments in video resolution. The focus switched from 480p and 720p to 4K in a flash. If you blinked, you may have missed the short-lived reign of 1080p.
At the moment, 4K is still more frequently appreciated in conversation than in family living rooms. The next few years will witness a change to that reality. It's estimated that by 2024, 50% of US households will have 4K-capable televisions.
We are seeing the emergence of higher video frame rate streaming. A frame rate of 60 frames-per-second makes high resolution look even sharper. It reduces blur in high motion video as compared to traditional 24 or 30 fps standards.
Mix 4K and 60 fps together and you have a sight to behold. It's the reality of a not-too-distant future.
Organizations will be more intentional about viewer experiences.
Newcomers to live streaming have often overlooked the overall viewer experience. Phrases like "look how great this stream looks" and "look how many places we send our stream" dominated the past couple of years. Major technological improvements have briefly distracted us from other viewer elements.
In the next few years, look for a more thoughtful, viewer-centric approach to take center stage.
Video quality isn't everything. The type of viewer experience that mirrors in-person attendance requires more. Broadcasters will incorporate captions, overlays, documents, and indexing. In doing so, they will take viewer experiences from good to great.
Not all destinations are created equal. Expect pushback against some social destinations as they face increasing scrutiny over viewer data use and over-reported analytics.
Many organizations will think more critically about the brand presented to viewers. Ads and third-party content distract from brand engagement that a great stream offers. Clear calls-to-action like extra resources, donation buttons, and contact information aid the brand impact of live streaming.
Final Thoughts + Further Reading
At BoxCast, we've been a part of bringing live streaming to where it is today. We will play a big part in the future. We'd love for you to join us on the journey.
If you're looking to start streaming, here's everything you need to know.
As always, happy streaming 😃 !