This post talks about the various ways you can add scoreboard overlays to your live stream on your website, Facebook Live, YouTube Live, or Periscope. It's part of our series on sports live streaming.
Arguably the most important part of recreating the in-person experience of a game is letting your viewers see the score. If viewers don't know who is winning or losing the game will be tough to follow, especially if they tune into a broadcast in the middle.
For that reason, it's important for sports broadcasters to find a way to add a scoreboard to their live streams. Here's a few ways to do it.
How to Add a Scoreboard to Your Stream
The ability to add scoreboards to your live stream will depend on what platform you are using for your live streaming. If you are sending directly to Facebook Live or another social platform, you will not be able to add scoreboards without extra production equipment. These platforms only distribute your streams and do not allow for overlays or other production elements.
If you are using a platform like BoxCast, there are several options for integrating your scoreboard while keeping a relatively simple production setup.
How to Add a Scoreboard to Your Stream with BoxCast
The BoxCast Scoreboard Overlays feature allows you to overlay a scoreboard onto your live stream before sending it to different streaming destinations such as Facebook Live, YouTube Live, Periscope, and your website.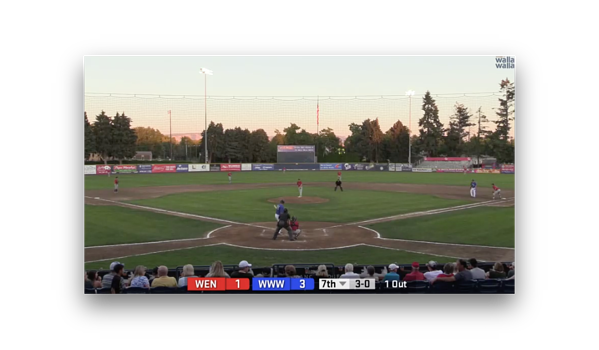 While the resulting scoreboard overlay will look similar to the one above (with some customization options for placement, team color, etc), there are three different options for scoreboard data ingestion:
BoxCast Wireless Scoreboard Adapter
Manual Scoreboard Controls on Broadcaster App or Dashboard
SportzCast Integration
Below, we go into further detail on each of these.
BoxCast Scoreboard Adapter
If you have a Daktronics 5000 series or Trans Lux Fair Play MP-70 scoreboard controller, you can integrate your scoreboard directly with the BoxCast streaming platform using the BoxCast Scoreboard Adapter.
Simply connect one of our scoreboard adapters to your scoreboard controller. We'll do the rest. Your score will automatically be integrated into your video stream.
The BoxCast Scoreboard Adapter can be connected through either WiFi or a cabled connection. If the distance between the scoreboard controller and the camera or BoxCaster is over 25 feet, you should opt for the wifi version of the BoxCast Scoreboard Adapter. If the distance is under 25 feet, we recommend the cabled version of the Scoreboard Adapter.
For more details on which option is right for you, read the scoreboard adapter decision guide (PDF).

Sportzcast Integration
Beyond our the BoxCast Scoreboard Adapter, BoxCast has also partnered with Sportzcast to integrate scoreboard data directly through their ScoreBOT interface, which can be linked to a wide variety of scoreboards.
Here's how to integrate BoxCast and the Sportzcast ScoreBOT
Manual Scoreboard Controls
If you don't have an actual scoreboard to integrate with your live stream or need something even easier, BoxCast offers manual scoreboard controls that allow you to update the score directly on the BoxCast dashboard or BroadCaster iOS App.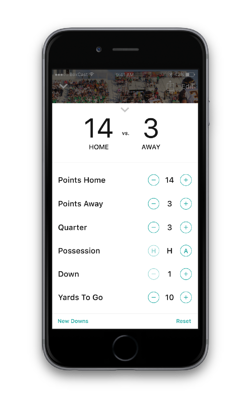 Here's how it works:
Final Thoughts + Further Reading
Scoreboards are just one element of sports live streaming. Here's a few other articles you might find useful:
How to Add Sponsors and Ads to Your Sports Live Stream
The Best Camera Angles for Every Sport
The Equipment You Need to Add Announcer Audio to Your Live Sports Streams