This post demonstrates the value of using Enterprise Last Mile Delivery. It's part of our series on BoxCast Features.
Enterprise Last Mile Delivery allows you to reduce the load on your internet connection when many viewers watch a live stream from the same location such as a corporate campus, conference center, or stadium.
In this post, we'll explain Enterprise Last Mile Delivery, and discuss the positive impact it can have on your organization and viewer experience.
Quick Refresher of BoxCast's CDN
BoxCast streaming comes standard with an advanced CDN (Content Distribution Network) that can reach your viewers all over the globe. The CDN can simultaneously deliver live video and recorded on-demand videos.
However, even the most advanced CDN can be improved upon for video streaming, especially when you have many viewers watching the same content in close physical proximity.
Peer-to-Peer Technology
The Enterprise Last Mile Delivery feature builds on technology originally utilized for peer-to-peer sharing. It reduces the load on your internet connection when you have many viewers in close proximity (such as employees at a company watching the same town hall meeting, or multiple students on campus watching the same basketball game). Peer-to-peer technology helps to protect your network and can provide a better video experience for your viewers.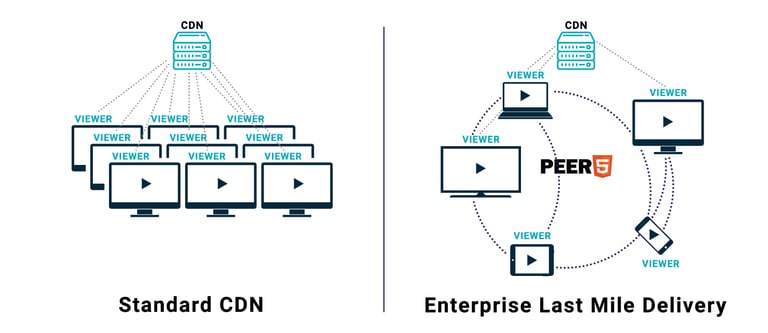 BoxCast has partnered with Peer5 to enable this viewership improvement. You can learn more about this emerging technology here. With Enterprise Last Mile Delivery enabled, we've been able to measure dramatic user experience improvements for corporate environments, as well as for remote regions with limited internet connectivity in South America and Africa.
Final Thoughts + Further Reading
All BoxCast organizations utilize a reliable and scalable CDN functionality out of the box that provides a high quality experience for a wide range of network conditions. However, if your organization expects a lot of viewership at a single location, reach out to the BoxCast Customer Success team to see if Enterprise Last Mile Delivery is right for you.
Last Mile Delivery isn't the only thing you can do to enhance your viewer experience. Here's more on the little things that can take your live stream to the next level.
Happy Streaming 😃!