This is the December 2018 update for the BoxCast Platform. The update includes the following:
New Features
HEVC Streaming on the Broadcaster App
Stream in the highest quality (up to 1080p60 at 18 Mbps) from the Broadcaster App using the advanced HEVC streaming protocol. Regardless of your internet connection, with HEVC, you can stream higher quality video with your available bandwidth.

Also read: How to Create a High Quality Live Stream on Your iPhone


Preview Images & Video when Sharing BoxCast.tv Link
When sharing your broadcast on social media, you now see a new card with the title, description & thumbnail image. On Twitter, you can even watch the broadcast right within Twitter.

How to use BoxCast's Promotional Tools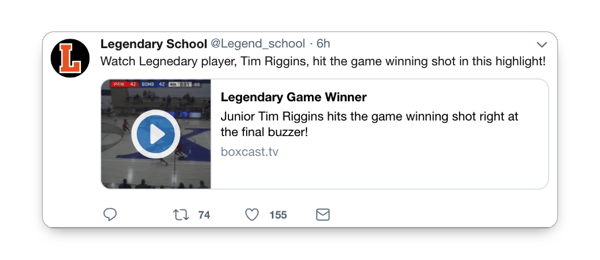 Additional Updates

Use Audio Mixers with the Broadcaster App- iPhones are great for video but using an external audio source can make all the difference in streaming a great broadcast from your iPhone.
Additional Note
A message from the BoxCast Product Team
We come to work every day excited to empower you with everything you need to share your live events with the world. You pour passion & energy into creating incredible events and broadcasts and we pour passion & energy into ensuring that your live streams are delivered to your viewers with best in class quality.

It's been our pleasure building new products and features and watching you use them to create better broadcasts. We have spent much of 2018 focused on helping broadcasters improve the quality of their broadcasts with features like Graphic Overlays, Broadcast Replacements, Stream Diagnostics, Automated Captions, and High Frame Rate Streaming. In addition to Dashboard features, we released the BoxCaster Pro and have seen hundreds of live streams with quality like never before. All the while, we've worked around the clock to keep up with the 16,000 monthly broadcasts that rely on BoxCast's end-to-end platform.

We're always striving to build a more complete, end-to-end live streaming platform and it will only get better from here. Thank you to everyone who shared your thoughts, ideas, and opinions with us. We are constantly improving the BoxCast Platform to make your job easier and your broadcasts better. Your feedback is essential and you can always send me a note at ideas@boxcast.com or submit and view upcoming features at www.boxcast.com/ideas.

We truly hope you have a wonderful holiday season and wait with excitement to see what 2019 brings! 🚀