In an online world that is becoming increasingly saturated with content, the task of creating a standout church website can seem daunting.
At Compass, we've had the opportunity to launch over a hundred websites. In this post, we set out to answer one simple question: what makes a great church website?We looked through dozens of church websites and came up with four of the most important things that you can do on your site to engage both current and prospective members alike.

1.
Give away your content
Instead of making your content exclusive to your current church body, use it to attract new members.
Content that you can post on your site can include:
Editorials from the leadership or members

Live video streams of your Sunday worship services and more

Video archives of past services

Summaries of past services
You're likely producing the above ideas in the day-to-day operations of running your church. By publishing them on your site, you can give prospective members a taste of what they would experience as a member of your church.
For example, Reality SF puts a large emphasis on content that they've produced, inviting visitors to become more engaged with the happenings of the church.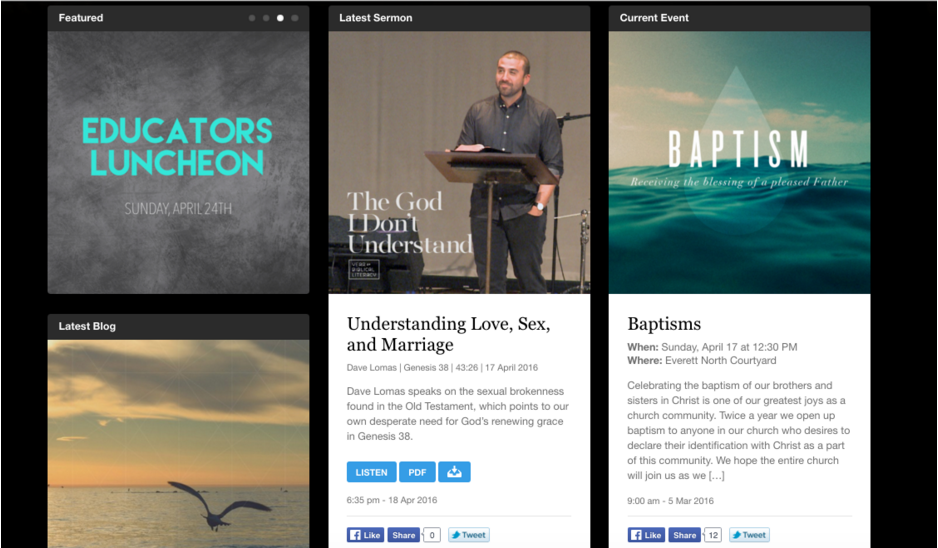 2. Don't cut corners on information for members—prospective members will read it, too.
When a prospective member is viewing your website, they may not be ready to join your church just yet. When they click around, they'll be looking for content and resources that are valuable to them. This is a great opportunity to show off what you already provide to your members!
Would your members be fine with getting information about how to join church groups in a PDF? Sure. But adding this content to your website in an attractive way will show prospective members one of the great benefits of joining your church.
Take, for example, Oasis LA, which features their church groups on their website. While this is information that could certainly be shared to existing members through an email newsletter or a PDF, it's designed on their website in a way that could entice website visitors to be really interested in their various church groups.
Simply providing information to members in a visual way that can also attract non-members, giving them multiple reasons to want to join the church.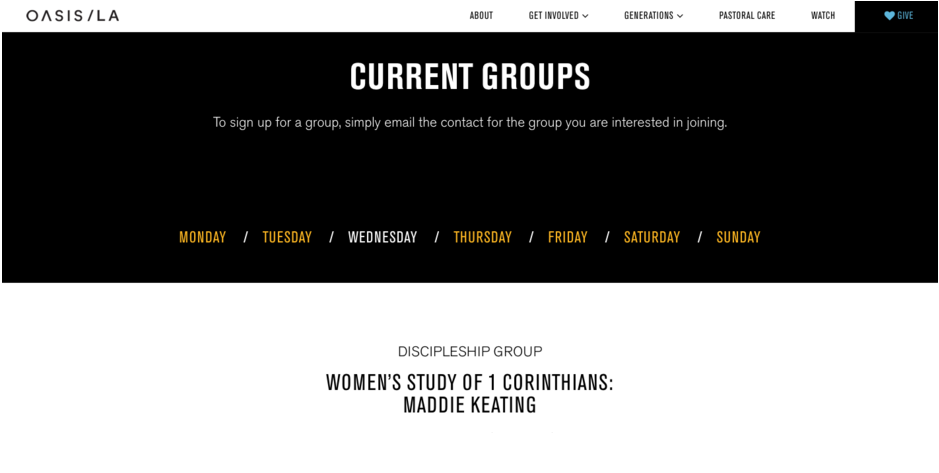 3.
Show visitors what's coming up next
Both current and prospective members will use your website as a resource to understand what comes next. You should have a calendar on your website so that prospective members can see what the schedule is for upcoming events.
Many church websites on the internet are completely idle or out of date. If your website doesn't show upcoming events, visitors may assume that your church is out of date as well, or even non-operational. An updated events calendar is one of the best signs of life you can give to a prospective member.


4.
Showcase the people behind the church
When visiting church websites and considering joining, one of the most important things everyone looks at is the people involved with the Church. While many websites primarily focus on the mission of the Church and the services they provide, great church websites showcase the people involved with the church, which can include:
Leadership

Staff

Volunteers
If you can, include pictures of the people behind the Church – it can make a huge difference. It's one thing to see a name, but it's another thing entirely to see photos of the people that a member or visitor will interact with.
Renewal Chicago showcases a great image of their lead pastor as the first image, showing him with his family: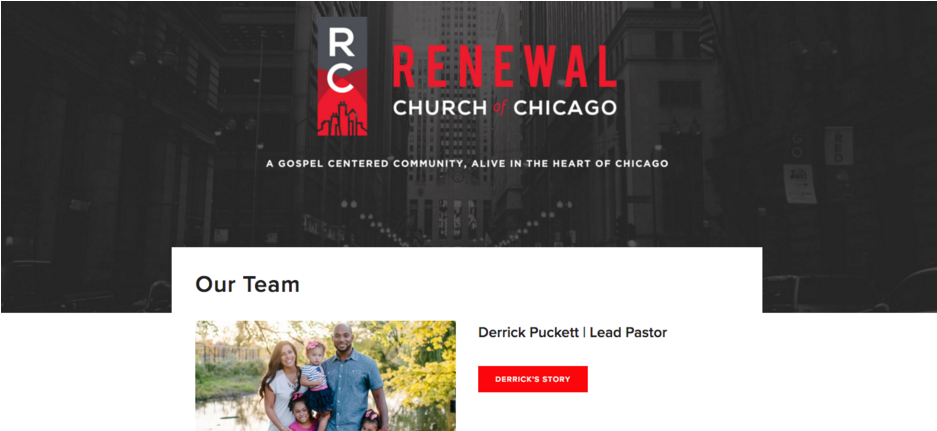 Final Thoughts
The goal of your church's website is to help build your community, whether by reaching current members or engaging people who haven't yet joined. What makes a great community? A place where people feel like they can give as much, if not more, than what they receive.
To do your part, be sure to give to your online visitors. Give away your content, focus on creating meaningful resources for your members, show them which events are happening, and be sure to showcase the people behind the church. You'll be well on your way to creating a powerful and impactful website.

---


Mike Wilner is the Co-founder/CEO of Compass, a web design marketplace that makes getting a website easy and affordable. With Compass, you can work with top web designers to get the perfect website within your budget. Check them out at hellocompass.com.